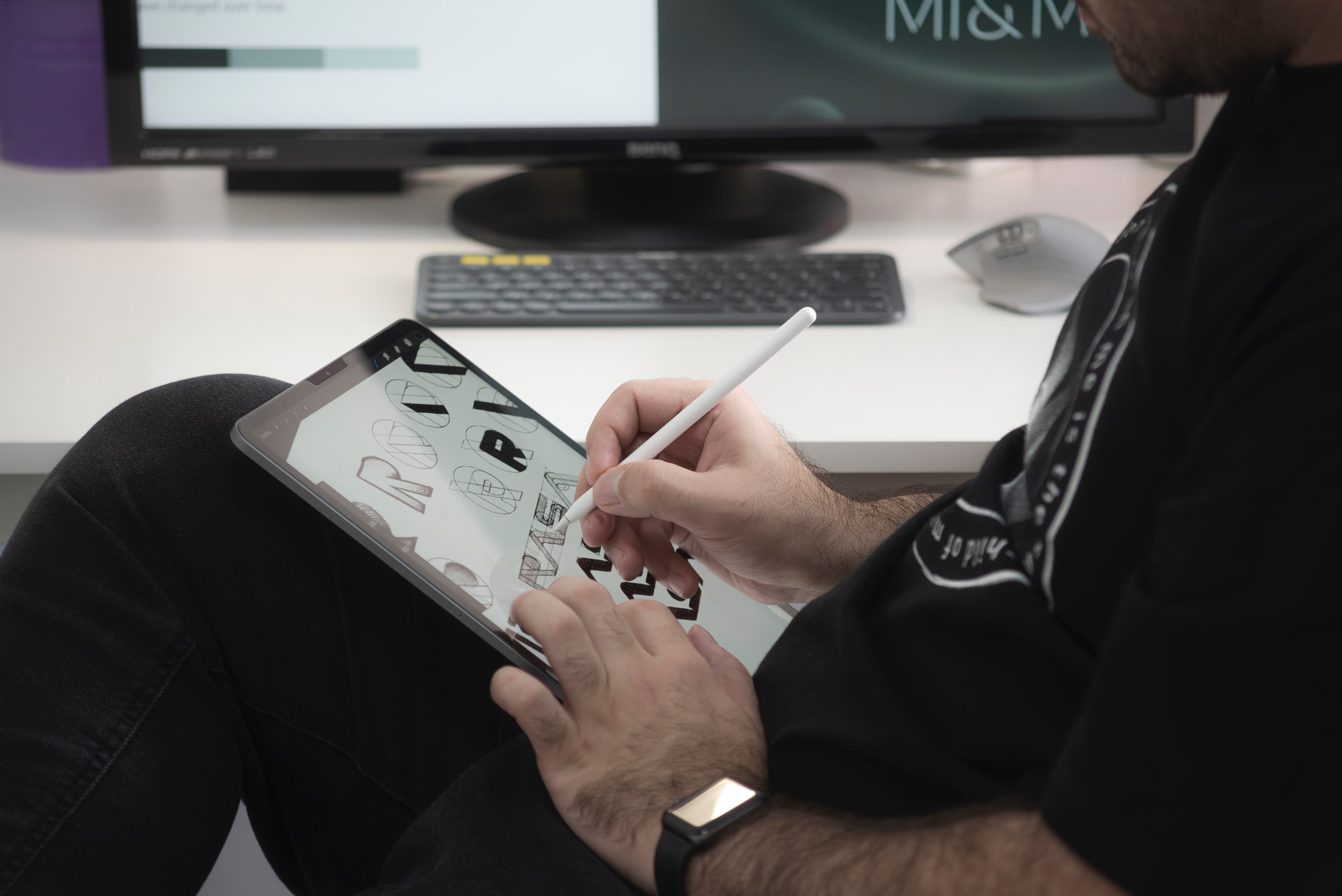 10 Best Tablets for Graphic Design
What is the best tablets for graphic design? As a graphic designer, you may sometimes ask this question yourself.
Designers usually use drawing tablets for digital illustration or photo retouching work since it is more comfortable and convenient than simply using a mouse.
Every graphic designer will have different needs, and finding the ideal tablet for your graphic design needs is not easy because there are so many options on the market.
So we prepared a list of the best drawing tablets available on the market, ranging from specialized models like Wacom to more versatile options like the iPad Pro and Galaxy Tabs, as well as relatively budget models.
Is a Tablet Necessary for Graphic Designers?
It is, without a doubt, an option, not a requirement.
Every designer won't need a graphics tablet. However, many artists, illustrators, and graphic designers, in general, started to switch to tablets to complete their projects faster and more easily.
Designers can sketch and retouch more naturally with tablets than with a mouse or a touchpad.
If you don't need to do complex graphics or picture retouching, you won't need an expensive tablet with a screen.
A tablet with a screen isn't always necessary, but having one will make your job a lot more fun.
How Do You Choose a Graphics Tablet?
Because every designer has a different budget and needs, certain tablets will suit you better than others.
Tablets aren't all made equal. They do, however, give similar features.
The price of a drawing tablet can vary substantially; those without a screen will be far less expensive than those with a display.
Some are more precise and have a wider drawing space, while others are modest and have basic specifications.
The first decision you must make is whether you want a simple graphics tablet without a screen, a pen display with a screen, or a tablet computer such as an iPad Pro or Galaxy Tab.
After you've made this decision, the following step is to focus on the important features and functionalities you're searching for.
When purchasing your first tablet as a graphic designer, the following are the most important factors to consider:
Active area
Pressure sensitivity
Resolution
Hotkeys
Stylus
Scrollers
Connection
Active Area
Before purchasing your tablet, it is a good idea to consider the screen size. You definitely don't want to be disappointed! So make sure you get the right size that best suits your work.
Pressure Sensitivity
Everyone has a unique drawing or illustration style, So you may wish to select a tablet with an ultra-sensitive and responsive surface based on yours.
Table pressure levels begin at around 300 and rise to about 3000. The ideal pressure level to look for on a tablet is around 1,000.
Resolution
If you work in a field where you need to create very high-resolution images or sharp graphics, a tablet with a high LPI (Lines Per Inch) would be a better choice.
Consider Lines Per Inch in the same manner that people consider 4K resolution on TVs and computer monitors.
Hotkeys
It's becoming incredibly popular to see tablets with built-in HotKeys.
To save you time and simplify your work process, The built-in HotKeys are located on the side.
Instead of navigating between tabs, apps, or even selecting brushes in Photoshop, hotkeys will save you a significant amount of time.
Stylus
Stylus or pen comes in two varieties:
Battery Operated (AES)
Electromagnetic Resonance (EMR)
EMR styluses can instantly distinguish between pen and touch inputs, resulting in a highly smooth pen experience.
AES styluses exceed EMR styluses in terms of performance, but they take some getting used to and adjusting for.
Scrollers
Moving your stylus around the screen on your tablet can be inefficient, especially if you're working on large artwork on a small tablet.
Fortunately, many tablets include a scroller, allowing you to swiftly zoom in and out and navigate around your artwork.
Connection
Tablets have two types of connections: standard corded and wireless Bluetooth.
While a wired tablet will not have any connectivity concerns and will be less expensive, it may be annoying to continuously connect the cables.
Wireless tablets, on the other hand, will provide you with mobility that a corded tablet will not.
The 10 Best Tablets for Graphic Design
Wacom Cintiq 22
Apple iPad Pro (2020)
Huion H610PRO V2
XP-PEN Artist12
Huion Kamvas Pro 13
Wacom Mobile Studio Pro
Wacom Intuos Pro
GAOMON PD1560
One by Wacom Student
Huion Inspiroy H640P
1. Wacom Cintiq 22
Wacom is a well-known manufacturer of drawing tablets. Overall, the ideal tablet for any professional graphic designer.
This is a tablet with a display that allows you to draw directly on the screen. It is available in two sizes: small 15.6 inches and medium 21.5 inches. It is the third-largest model of all Wacom drawing boards, with a maximum resolution of 1920 x 1080 HD.
If you go with the Wacom Cintiq 22 in medium size, you'll receive a wide full-HD screen with enough clarity to see every detail of your work.
The display is very vibrant, with 16.7 million colours, and is an excellent choice for any artistic activity.
It includes the Wacom Pro Pen 2. This pen has 192 pressure levels, a low activation force, and tilt detection, all of which provide incredible precision for the most natural drawing experience.
A battery-free pen that charges from the screen while you work is an interesting feature.
The pen performs admirably, and it may be used for things other than graphics.
This is an ideal tablet for a graphic designer who enjoys drawing or students looking for a superior on-screen experience.
2. Apple iPad Pro (2020)
If you enjoy Apple products, you might want to consider buying the new iPad Pro.
The greatest tablet for iOS users looking for a tablet/computer combo. The iPad Pro may be used not only as a drawing tablet but also as a powerful laptop.
The 12.9-inch all-screen Liquid Retina display with ProMotion and True Tone will make everything appear incredibly clean and sharp.
The Apple Pencil, like the Wacom pen, charges magnetically; however, it must be purchased separately.
You can also purchase extra accessories, like a keyboard with a trackpad, to convert your tablet into a laptop.
This is a great choice for designers who prefer to draw but also need to run other programs on their tablet at the same time.
You can look through images and access the web while painting.
A fantastic solution for designers who like an all-in-one device.
3. Huion H610PRO V2
If you're searching for a tablet that's reasonably priced but doesn't compromise on quality, the Huion H610PRO V2 is the best option.
The greatest tablet for newcomers on the market. This tablet has a fantastic set of features, such as eight express keys and 16 soft keys.
With a working area of 10 by 6.25 inches for a PC and 3.9 by 6.25 inches for mobiles, the Huion H610PRO V2 provides excellent graphics.
Aside from Chromebooks, this tablet is also compatible with Mac (OS 10.12 and higher), Windows, and Android smartphones.
Furthermore, with its Innovative Tilt Control System, which provides superior prediction and accurate cursor positioning, this tablet elevates your design to a new level.
This tablet also has a pen stand with 8 additional nibs, for a total of 9 nibs, plus the one from the pen itself.
It also gives lefties the advantage of being able to modify using its driver, which has a straightforward set-up.
The Huion is composed of black plastic and is lightweight, measuring slightly over a half-inch thick at its thickest point and having a curved design.
There is a slight difference in feel between the Huion and the Wacom, with the Wacom being more flexible and the Huion being more springy.
With a weight of roughly 635 grams, this is a tablet that you can simply carry and use for graphics work everywhere.
When it comes to security, the Huion H610PRO V2 includes a surface protector.
While it may not offer as much as more expensive tablets, beginners can benefit from the tablet's functionality and low pricing.
4. XP-PEN Artist12
If you want a low-cost tablet but don't mind connecting it to your computer, the XP-PEN Artist 12 is a great option.
The most reasonably priced screen tablet for graphic designers. A wonderful option for beginners and graphic design students looking for a high-quality tablet at a reasonable price.
XP-PEN Artist 12 is compatible with Photoshop, Illustrator, SketchBook Pro, MediBang, Clip Studio, and many more applications and runs on Windows 10/8/7 (32/64bit) and MAC OS 10.10 or higher.
It has an 11.6-inch display size and 8192 levels of pressure sensitivity.
The Full HD display, together with a colour gamut of 100% sRGB, will present brilliant images, vibrant colours, and extraordinary detail of your artwork.
The screen also includes an anti-reflective coating, allowing it to be used in any setting.
This tablet is suitable for drawing, photography, animation, fashion, sketching, image editing, and 3D sculpting.
It also has a narrow touch bar that you can configure to zoom in and out on your canvas, scroll up and down, and perform other things.
Overall, this is a great tablet for individuals who don't mind using it with a computer or who don't require the features of an iPad or Galaxy Tab.
5. Huion Kamvas Pro 13
The Kamvas Pro 13, Huion's newest tablet, has a fully-laminated textured screen, a 120% sRGB colour gamut, a battery-free camera, and pen tilt capabilities.
The most compact graphic designer tablet. If you're searching for a small tablet that won't break the budget, this is the one to get.
This tablet appears to be highly promising based on its specifications, with top-of-the-line features all around and reasonable pricing.
The Huion Kamvas Pro 13 tablet has a dark colour scheme with a silver ring around it.
You can never go wrong with this tiny tablet, which has an active area of 11.5 by 6.5 inches and a diagonal of 13.3 inches.
This tablet comes with a tablet stand, a battery-free pen, a pen stand, and a combination cable.
The Huion Kamvas Pro 13 has a smooth matte feel that makes it easy to write on.
Furthermore, this tablet is substantially lighter than previous tablets, weighing only 2.01 lbs.
If you need a sketching tablet that is small enough to carry in your luggage or bring with you wherever you go, this is the tablet for you.
This tablet has four programmable buttons as well as a touch bar. In terms of compatibility, the Kamvas Pro 13 is compatible with Windows 7 or later, Mac OS 10.12 or later, and Chrome OS 88 and above.
6. Wacom Mobile Studio Pro
If you prefer a powerful tablet that can also function as a computer, you may consider purchasing the Wacom Mobile Studio Pro.
The greatest performing tablet with full Windows on the inside. A fantastic option for professionals and people who prefer high-quality hardware.
Wacom's most advanced and powerful portable pen-computer allows you to push the boundaries of your creativity.
A stunning display, precise pen, increased computational power, and a long-lasting battery enables you to bring your creations to life whenever and wherever you want, without interfering with your creative flow.
Wacom Mobile Studio Pro features an Intel Core i7-8559U quad-core processor and an Intel Iris Plus 655 graphics card to meet all of your design requirements.
Using its super-precise pen with over 8,192 levels of pressure sensitivity, you will be able to work swiftly and efficiently on illustrations or photo editing.
And with its high-resolution display (up to 2560 x 1440 WQHD), you'll be able to see the world in stunning detail.
Nothing can stand in the way of your creativity with such a powerful computer, and even the most demanding designers will not be disappointed!
7. Wacom Intuos Pro
A solid and reliable pen tablet for any kind of graphic design work.
Among graphic designers, this is most likely the most popular drawing tablet.
The Wacom Intuos Pro PTH660 is an excellent pick for any kind of designer that spends a significant amount of time on image editing, illustration, or design work.
It works flawlessly with a PC or MAC, and there are no cables required; the built-in Bluetooth will do.
This tablet is available in three sizes: small, medium, and large, so you can find something that suits your needs.
The Wacom Intuos Pro offers 8192 pressure sensitivity levels to provide the most accurate performance and lifelike pen-on-paper experience.
The pen's excellent tilt recognition and almost lag-free tracking will offer you complete control over your creative process.
The Intous series is Wacom's most advanced pen tablet to date, and it sets the bar for professional-grade pen tablets.
Wacom tablets are still used by filmmakers, animators, industrial designers, and fashion designers around the world.
8. GAOMON PD1560
With a 15.6-inch widescreen monitor and shorter Express Keys, it allows for a rather long tablet with a large working space – not bad for a low-cost device.
The greatest option for graphic designers. Considering how good Huion and Wacom tablets can be, getting this tablet will never let you down.
The GAOMON PD1560 features a 15.6-inch IPS display with a Full HD resolution of 1920 x 1080 and a colour gamut appropriate for both amateur and advanced users.
The primary case is constructed of relatively smooth acrylic, and the front surface is almost entirely covered in glass. Like the rest of the case, the left inch or so of the front is constructed of plastic and has eight large shortcut buttons as well as two considerably smaller ones.
It offers a large drawing surface of 13.5" x 7.6" and a full HD screen with a brilliant 1920 x 1080 resolution.
Your artwork would be shown on the tablet's drawing surface in real-time. This is the closest thing to drawing or painting on paper or canvas that you can get.
Furthermore, by dragging the switch to modify the angle of the pen display, the GAOMON PD1560 allows you to reach a great and comfortable position. This is made feasible by the fact that it has a 178° viewing angle.
This model also has a resolution of 5080 LPI and a report rate of 233 PPS, all of which are featured on high-quality models, resulting in more realistic and fluid movements, cleaner lines, and better overall designs.
Although the Wacom or Huion products appear to be more stable in general, the GAOMON PD1560's price point is undeniably important for those who cannot afford the former.
9. One by Wacom Student
This tablet was designed specifically for graphic design students for classroom courses, as the names suggest.
The finest option for students and online learning. Overall, this is an excellent drawing tablet. a good choice for newcomers
If you need a digital pen to collaborate, exchange work, and engage with other students and teachers, this is a wonderful deal!
Don't anticipate too much for this cheap, but the One by Wacom Student drawing tablet will undoubtedly take you beyond the restrictions of a mouse.
This tablet is an excellent alternative for students and teachers looking for a digital pen to use with their computer to sketch, edit images, express ideas, and communicate in online classrooms.
The pressure-sensitive, battery-free pen is pleasant, durable, and accurate, and it truly feels like a pen on paper.
As with other non-screen drawing tablets, it must be used with a laptop or computer compatible with Mac OS, Windows, Linux, Chrome OS
One by Wacom has everything you need and nothing you don't, making it simple to get started right away.
10. Huion Inspiroy H640P
The cheapest tablet for newcomers and children.
If you look at the pricing, you might believe it's a typo, but it isn't! Basically, you'll get all of the essentials on a tablet.
Huion Inspiroy H640P is not only Mac and Windows compatible, but it also supports Android, allowing you to use it with virtually any computer.
This simple-to-use pen tablet is ideal for beginners who enjoy drawing, animation, photo editing, or any other type of design work.
The Huion Inspiroy H640P is suitable for online education, as professors and students can effortlessly make handwritten revisions or take notes on a virtual whiteboard, such as Zoom.
The drawing surface is somewhat small, but the pen is sensitive enough to convey the actual experience that a graphic design tablet can bring.
It is ideal for not only taking notes, writing down ideas, and signing off on documents, but it may also be used for light drawing and illustration.
You'll definitely outgrow this tablet quickly, but if you only need basic functionality or something to play with once in a while, give it a shot.
Remarks
With so many tablet options available, it might be difficult to pick which one is ideal for you.
On our list, you'll find something for everyone, whether you're a beginner or an experienced graphic designer. Hopefully, you'll find something that will help you develop your graphic design career.
Having the proper tools is essential for any artist, and when it comes to tablets, this is a gadget you will most likely want to use regularly.
Share this post with your friends and express your views in the comments below.